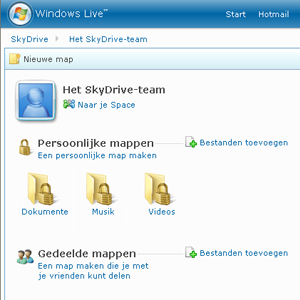 Jan Nedermeijer tipte me vandaag op deze Microsoftdienst, die sinds eind februari Live is. Het gaat hierbij om een gratis online harde schijf met 5 Gb opslagruimte. Dat gaat er op lijken…
Je kunt je presentaties, werkstukken, plannen, documenten, filmpjes, foto's, muziek en andere bestanden gratis, snel, eenvoudig en veilig delen met vrienden, familie of collega's.
Je kunt je memorystick wel wegdoen (tenzij je natuurlijk geen internettoegang hebt): die kun je toch maar kwijtraken of van je gestolen worden.
Je kunt daarbij 3 soorten omgevingen beheren:
Persoonlijke mappen; alleen toegankelijk voor de gebruiker zelf;
Gedeelde mappen; de gebruiker bepaalt wie er toegang heeft;
Openbare mappen; voor iedereen toegankelijk.
SkyDrive is het nieuwste product in de Windows Live reeks. Om dit te kunnen gebruiken moet je wel een MSN-account hebben, maar mocht je die nog niet hebben (als je bijvoorbeeld hotmail gebruikt heb je het benodigde account) dan kun je je hier eenvoudig even registreren. Daarna kun je gebruik maken van de vele diensten die Microsoft op het internet gratis aanbiedt. Kijk even op http://services.nl.msn.com/